The "Master Your Life" Event Comes to Birmingham For The First Time Ever: Unleash Your Potential and Thrive in Today's World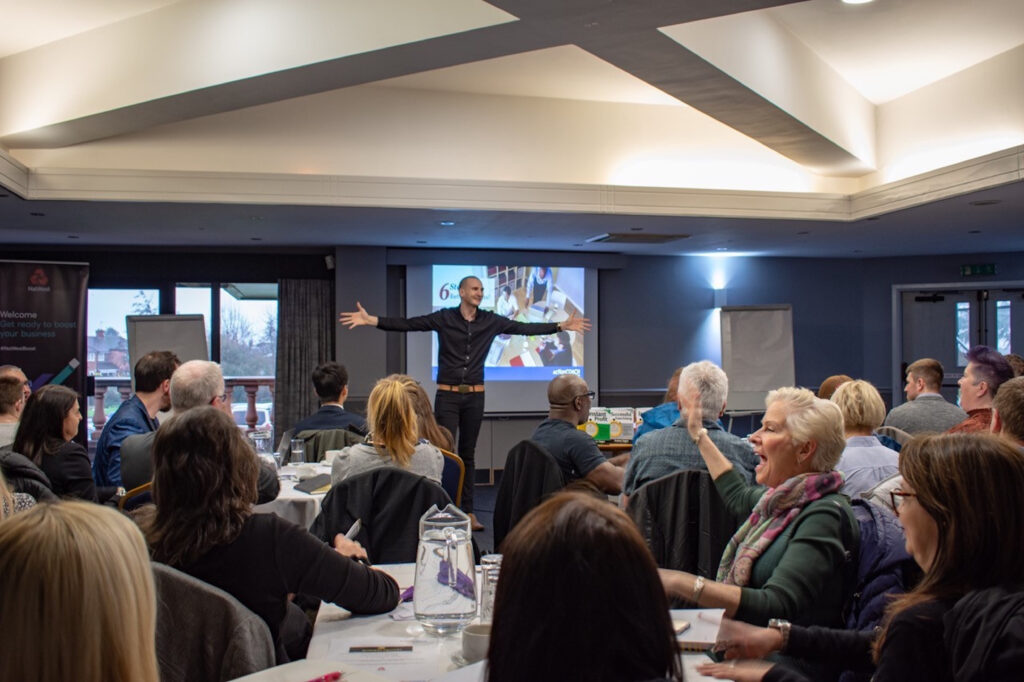 In a world where Mental Health challenges are around every corner, it's never been more important to work on yourself. The Master Your Life Event makes its way to Birmingham for the first time ever with some HUGE names lining up on stage.
Names like:
Ella Henderson – X Factor Star And No 1 Selling Album
Paul Smith – Britains fastest growing comedian
Sir Randolph Fienes – Britains Greatest Explorer
James Burke – Star Of Amazon Prime's Business As Unusual
Michael Heppell – Best Selling Author
Tom Blackledge – Former UFC Fighter
Phil Oldershaw – Radio Host And Public Speaker
And more…
It's a personal development event with a twist.
More like a bang.
With a euphoric ending that will leave you feeling both enlightened and entertained.
Master Your Life has been applauded for its unique experience.
Audiences leave feeling inspired, motivated, and free.
But most of all they know exactly what they need to do to move forward in life.
When you add in the superstars that Master Your Life Birmingham brings to the table, you can start to understand just how special this event is.
Master Your Life founder James Burke was homeless at 16, and depressed and suicidal at 23. He battled through tough circumstances that included losing two of his sisters and two friends to suicide.
He went on to become a global multi-award-winning business coach, successful entrepreneur, and one of the best speakers in the world.
He started running Master Your Life to teach people how they could get more from life.
And how people could live a life on their terms.
It's not about trying to survive in this new world, at Master Your Life, you'll learn how to truly thrive in ANY environment.
James has created something special. And the growth the event has seen is a testament to just how special this event is.
Quickly becoming one of the biggest self-development events in the UK.
That could be because Master Your Life is a self-development event with a unique style.
You'll uncover life-changing discoveries about YOURSELF whilst learning the strategies that have changed the lives of some of the greatest minds the world has ever known. But you won't sit quietly with a pen and paper being bored with every new speaker. These events are electric, you'll be up out of your chair one minute, then going on an experiential journey the next (assisted with your very own blindfold).
Master Your Life is not just an event, it's an experience that will take you to places that you never thought possible.
What you can expect at Master Your Life:
Experience electrifying live performances and captivating talks that will transform your whole life at Master Your Life.
With your ticket to the event you'll get:
Global superstars performing live
Some of the best personal development speakers in the UK
Extra virtual sessions before and after the event to teach you how to take your life and mindset to the next level
A personal wealth workshop included
And gain access to the incredible Master Your Life community on Facebook
You'll also…
Discover the 5 secrets that will help you get rid of depression, anxiety, or ANY negative emotions
Learn the 2 tactics that will INSTANTLY help you reach your full potential
Walk away from the event feeling confident that you can achieve anything that you put your mind to
Uncover the proven strategies that will unleash your untapped potential so that you can become the very best version of you and achieve things that you never thought possible.
Become part of a high-performing network full of influential entrepreneurs, mentors, coaches, and sports stars. You'll connect with a dynamic community of high achievers who expand your circle of influence and open doors that were never previously available.
Experience your very own transformation brought about by inspiration, strategies, and hacks designed to help you become the person that you want to be and live a life on your terms.
Why is it important?
Master Your Life is important because it offers a unique opportunity to transform and break free from your limitations. After this event, you WILL achieve personal growth and create a life that aligns with your dreams.
Who's it for?
People that want change and growth. For those that want more from life and are ready for their very own transformation. If you're into self development or personal growth then this is the event for you.
Like it was for Lucy. Her business was on the verge of collapse. She was in hell. The stress was too much for her and she was close to a breakdown. But everything changed for her after Master Your Life. For her, Master Your Life was the day that everything changed. Her mindset shifted and so did the way she looked at the world. Within weeks her business started getting sales that she had written off. Miracles started happening for her. Old invoices were paid that she thought she'd never see the money for. Problematic staff members left the business and now, she's in the process of selling her once insolvent business for £5 million. And to top it all off, she just had a beautiful baby boy. Something that she'd dreamed of but didn't feel she could do while the business was struggling.
Who's doing it?
Brought to you by the same people that deliver The BizX event. BizX has hosted speakers such as Lord Alan Sugar, Stephen Bartlett, Sir Clive Woodward, Stephen Mulhern, Claire Balding, and Gabby Logan.
When is it?
Master Your Life is a full-day personal development event on January 27th at Birminghams' Iconic 'Symphony Hall'.
This isn't set in a stuffy conference centre. Symphony Hall is one of the finest theatres in the UK. A place full of charm and character.
Why Birmingham?
Birmingham is home to Symphony Hall, one of Britains most opulent and stunning theatres. Birmingham is also one of the UK's oldest and most historically significant cities. It holds a deep sense of tradition and heritage.
This great city is an educational hub. It's home to some of the best Universities and research institutes in the country. With such a strong educational environment Birmingham is a natural draw for people seeking personal development.
And perhaps most importantly, Birmingham loves innovation and growth. With a legacy of industrial innovation and a growing tech sector, Birmingham embodies the spirit of progress.
What's the core message?
The core message from Master Your Life is simple.
You can live a life on your terms when you do three things.
1. Understand what was holding you back,
2. Figure out what you want,
and…
3. Have the strategies to help you get there.
When you attend Master Your Life you'll have clarity on all three.
And you'll get there in an exciting, inspiring, and never-dull environment with some of the best speakers in the world.
And if that wasn't enough you'll also have music from some of the planet's biggest superstars.