Extended Project Qualification Showcase is a Resounding Success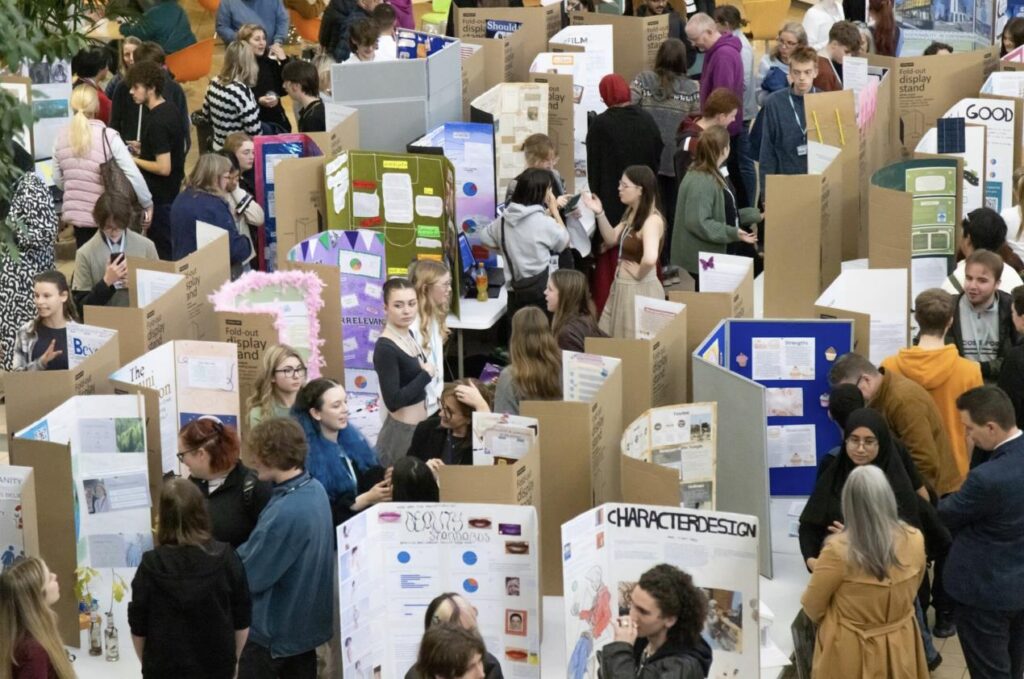 The EPQ programme has been running since January and has taken meticulous planning and preparation resulting in 86 presentations from the students, which were on display at JWC event.
Hundreds of relatives and friends of the students and other interested people viewed the displays. There was such a broad range of subjects being showcased, including mental health, women's football, the influence of social media, electric cars and a sculpture of the colosseum.
At the event, it was evident that there was a strong sense of community amongst the students, and that they want to make a difference, with examples of the EPQ titles including:
'To what extent do microplastics have an impact on marine molluscs?', 'How is deforestation affecting the Earth?' and 'Body standards and the effects they have on mental health on both male and female adolescences."
An EPQ is worth valuable UCAS points and completing the EPQ can strengthen a university application, especially if it relates to the course the student wishes to study. It demonstrates the ability to engage in independent study and research, which is highly valued by universities.
Matt Ridgill, Assistant Principal at DCG commented "Congratulations to all the hard-working students, it really was an impressive and brilliant showcase.
"The Extended Project Qualification is important because it empowers students to become more independent learners, critical thinkers, and effective communicators. It encourages them to delve into areas of personal interest, undertake in-depth research, and tackle real-world problems, fostering a love for lifelong learning and the ability to make a meaningful impact on their future endeavours."
Andrei Vintilescu, A Level Student's project was entitled 'Should the child's opinions be considered in custody cases?' Andrei, originally from Romania, commented on his experience of the EPQ: "It really has taught me a lot about researching and referencing and is good preparation for my next step in my learning journey.
"I am really looking forward to going to university to study law and I am grateful for the support of DCG, it has helped me progress to this level."
Andrew Cochrane, Chair of Governors for DCG said of the event "It was so good to see the results of all the students' hard work. It really showed their dedication under the guidance of the DCG team."
It is anticipated that there will be greater demand for students wishing to showcase their EPQ work at next year's event.
The BBC East Midlands Politics Show team attended and were impressed by the event, they interviewed the students and DCG staff about their work and future. The programme will be broadcast shortly.
Applications are now open to study A Level at DCG. Details here: https://www.derby-college.ac.uk/a-levels/